Racine Radon
184 2310 S. Green Bay Rd. STE C, #184, Racine, WI 53406
It is important for all Racine residents to learn about radon and why Radon Testing is so important for our health.
About Radon Testing Racine
The Indoor Air Quality Program's Radon department in Racine County along with Environmental Protection Agency (EPA), has made campaigns advising all Americans to test radon themselves or hire a trained certified professional to set up radon testing. We advise hiring Racine Radon to do a proper job establishing just how much of this toxin is effecting your indoor air. It has been proven fact that high levels impose a threat to those living in this indoor air.
What is Radon?
Radon has been described as, odorless, colorless, tasteless gas with  radioactive contributions. The Radon in Racine constitutes from the ground. It then forms naturally occurrence of progressive decay which is radioactive. In fact, uranium stored in earth's ground rock will seep into soil, leading to a decay process into radon. Since Radon is a gas, it is able to transfer into air and the water system.
Often present outdoors, Radon will be circulating outdoors at minimal degrees.  The Radon levels increase indoors when the gas is trapped and has no where to go.
This Radon gas  moving from under ground and soil can move up and penetrate into indoor air spaces, as an example, basements, dirt floors, crawl spaces or slab on slab rooms. As soon as it moves into the enclosed envelope of space, Radon can build up. This is why Radon levels accumulation in homes are often more intense than the outdoor radon average concentrations.  These action levels are deemed to be at 0.4 pCi/L (picocuries per liter of air).
Can Radon Testing find the gas in homes?
Yes , absolutely it can!   When we send a tech out to your home, we find high concentrations in old and new homes. Some folks think Radon can never be found in homes without basements, but that could be further from the truth than meets reality. Racine Radon Testing should take place in any home.
The entrance of Radon into the home happens in two ways. The most often path taken is up from the ground and into the floor of the basement.
Radon enters a home's space as follows:
Sump-pump pit and  floor drains
Penetrations of utility lines
Crawl Spaces
Floors made of dirt
Block foundation walls
Cracks in walls and floors
Most of radon penetrating into the home is coming from the ground/soil. Resulting in radon exposures tending to be at the higher concentrations in lower home levels. Factually, air indoors can represent the absolute largest air effect to radon. This is the reason why we advise Radon Testing Racine in order to conclude what the level of concern needs to be. You may have to make a decision as to when a radon mitigation system is needed, based on the results of the Radon Testing.
There is a  second entry way the Gas will penetrate into the indoor living space and that is through the well water.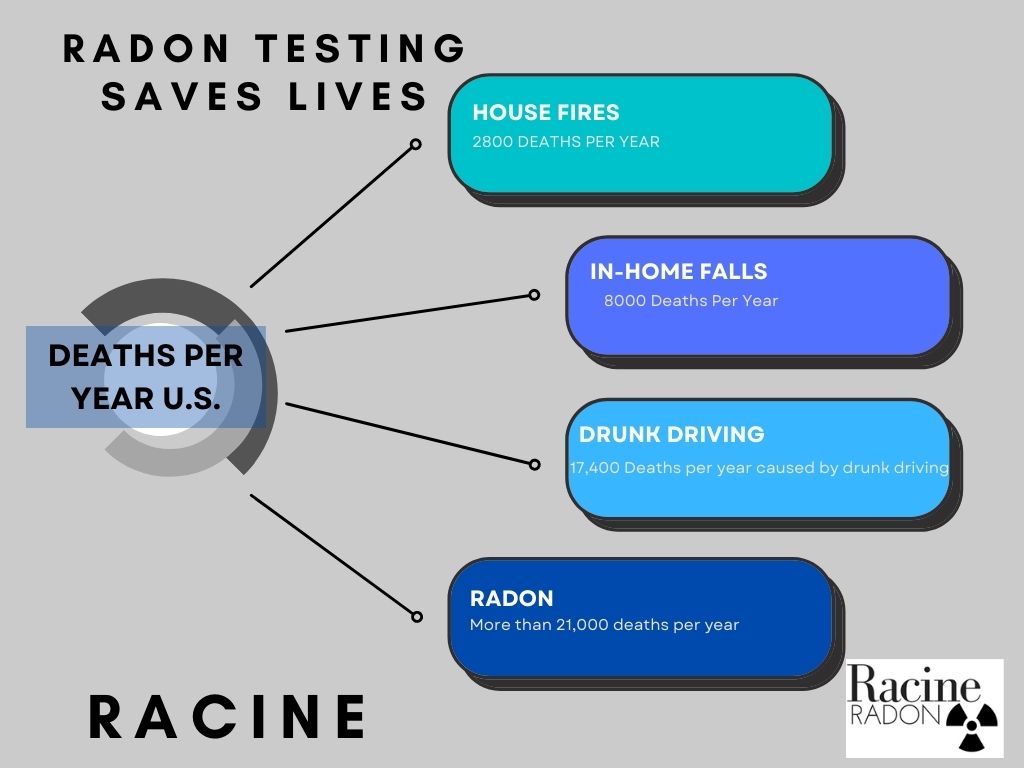 Radon causes more than 21,000 deaths per year. Drunk driving causes 17,400 deaths per year. In-home falls cause 8000 deaths every year. House fires cause 2800 deaths each year. Racine residents know to be careful of common accidents, but Radon deaths can be provented, simply by getting Radon Testing in Racine County, Kenosha County, Walworth County and Milwaukee County. Radon Testing will save lives if people are aware and test often.
We test air for radon gas in homes
We mitigate and remove radon gas through mitigation with over 30 years experience
Racine Radon
Racine's Premiere Radon Mitigation and Testing Company
IS THERE ELEVATED RADON Any Where in Racine County? 

Radon Testing -Why it matters

How harmful is exposure to indoor radon?

There is no question, it is harmful. Radon is classified as a class A carcinogen. A carcinogen means "known cause of human cancer".  It is a known fact that we can find radiation in many sources. The biggest source of radiation is Radon Gas exposure.  So many hours of time in our daily lives are spent in our indoor living space. Therefore, Radon exposure is the largest concern.

There is a method called radioactive breakdown, It happens when Radon  decays into multiple elements which are radioactive, and named Radon Daughters (Progeny). The Radon Daughters are basically solids, which are not gases. The Progeny will stick to each surface of a dust particle found in air, being indoor air. Indoor air dust particles will move Radon Daughters into and with this indoor air. Contamination will then take place among dust particles. When these dust particles are inhaled into the lungs, they can and do cling and stick to the airways of the lung organ. A break down of these radioactive particles of dust continue to break down even further and then release little bursting bursts of energy, which can and will damage the tissue of the lungs. As time goes by, cells that become damaged in and within the lungs can develop an abnormal act. This act will cause lung cancer to potentially develop. Think of it as  the risk of lung cancer increases, generally the level of radon exposure increases as well.

Radon is the number one cause of lung cancer in humans who do not smoke, and Radon is the number two cause of lung cancer among all other known causes. If you are exposed greatly to radon and smoke cigarettes, your chances of developing Lung Cancer are much greater.

The United States Environmental Protection Agency (EPA) gives estimates that 21,000 radon-related deaths happen yearly in the U.S. Radon attributed deaths are related and totally exceed the annual death statistics to motor vehicle accidents, falls, drownings, and fires. See the graph concerning the importance of Radon Testing Racine in comparison to other deaths.

Deaths related to Radon in the United States. Are preventable if Radon Testing occurs. Testing the indoor air homes identify a problem so that action to remove the toxic air can be considered and encouraged.

What does this mean for Racine residents?

U.S. EPA has announced that Radon-related lung cancers occur annually in Wisconsin.

In Wisconsin, EPA estimates more than that hundreds of thousands of these homes have high enough Radon Levels to exceed the determined EPA action reading guide of 4 pCi/L.

How can I find out if my home has radon?

Racine Radon Testing air will determine the exposure lurking in the dwelling.  In some Racine areas, more homes have dangerous levels than do not.  Again, the EPA action guideline level is 4 pCi/L.
Call us
(262) 955-6696
Radon Mitigation & Testing throughout Racine Area
Racine County
mMount Plesant, Caledonia, Sturtevant, Union Grove, Waterford, Brown's Lake, Wind Lake, Bohner's Lake, Waterford, North, Rochester, Wind Point, North Bay, Elmwood Park, Yorkville, Eagle Lake, Raymond.
Kenosha County
Bristol, Camp Lake, Kenosha, Paddock Lake, Pleasant Prairie, Powers Lake, Silver Lake. Twin Lakes, Wilmot.
Walworth County
Bloomfield Village,Como, Darien, Delavan, Delavan Lake, Elkhorn, Fontana-on-Geneva Lake village, Genoa City, Lake Geneva, Lake Lorraine, Lauderdale Lakes, Potter Lake, Powers Lake, Springfield, Turtle Lake CDP,  Walworth, Whitewater.
Waukesha County
Big Bend, Brookfield, Butler, Chenequa, Delafield, Dousman, Eagle, Elm Grove, Hartland, Lac La Belle, Lannon, Menomonee Falls, Merton, Mukwonago, Muskego, Nashotah, New Berlin, North Prairie, Oconomowoc, Oconomowoc Lake, Okauchee Lake, Pewaukee city, Pewaukee, Summit
Milwaukee County
 Bayside, Brown Deer, Cudahy, Fox Point, Franklin, Glendale, Greendale, Greenfield, Hales Corners, Milwaukee, Oak Creek, River Hills, Shorewood, South Milwaukee, Saint Francis, Wauwatosa, West Allis, West Milwaukee, Whitefish Bay.
And Other Wisconsin Counties .....
On the shores of lake lies a secret perhaps not many know, this beautiful town has elevated radon seeping up and into some homes. Many people do not know about it because they have never learned about radon gas or theynever suspected radon could be causing havoc throughout their town. Or perhaps they never knew how to test for elevated radon. Simply call Racine radon and set up an appointment for testing or if you know your radon levels are elevated, call us for mitigation. Don't live with dangerous radon readings in Lake Geneva, WI.  
© 2022 Racine Radon 2310 S. Green Bay Rd. STE C, #184, Racine, WI 53406 (262) 955-6696